When you have asthma, your airways become inflamed, making it difficult to breathe. There are various kinds of asthma and there are numerous sicknesses that have more or less same symptoms as asthma. Knowing whether your airways are inflamed can enable your pulmonologist to make the correct analysis, locate the best administration plan and screen your asthma better. One way they can do this is with a FeNO test. Aashwas Chest & Allergy Clinic offers the best quality FeNO test in Kolkata. Our renowned pulmonologists and allergists are overseeing the whole procedure and ensure that you will get a 100% accurate test result.
What is FeNO Test ?
A FeNO test or exhaled Nitric Oxide test, in patients with allergic or eosinophilic asthma, is an approach to decide how much lung inflammation is available and how very much breathed in steroids are suppressing This inflammation, with allergic or eosinophilic asthma, some of the time you may feel your breathing is fine, however when you measure your breathed out nitric oxide, it might even now be significantly raised, and you may improve in the long haul utilizing somewhat a greater amount of your breathed in steroid to stifle this inflammation.
What Is Nitric Oxide ?
Nitric oxide is a gas produced by cells involved in the inflammation associated with allergic or eosinophilic asthma.
How Is FeNO Testing Done?
The FeNO test, which stands for the fractional concentration of exhaled nitric oxide, is performed utilizing a portable device that estimates the level of nitric oxide in parts per billion (PPB) noticeable all around you gradually breathe out of your lungs. The exhaled nitric oxide test is unique in relation to most lung function tests in that you have to blow slowly and steadily, not hard and fast, to get a precise estimation.
How to prepare for a FeNo test?
To make sure test results are accurate, you will need to avoid the following for at least an hour before you take the test:
Other Precautions:
You will also need to avoid the following for about 24 hours before you take the test:
Exercise
Alcohol
Tobacco
Allergy shots
What you can expect?
To do this test, you'll be seated. Your doctor will have you put in a mouthpiece attached to a tube that leads to an electronic measurement device. Next, you'll breathe in for two or three seconds until your lungs are filled with air. Your doctor will then have you exhale steadily so that the air flows out of your lungs at a steady rate. Your doctor may have you watch a computer monitor that registers how much you're breathing out so that you can maintain a steady exhalation. The entire test generally takes five minutes or less.
Results of FeNO test
Higher than normal levels of exhaled nitric oxide generally mean your airways are inflamed — a sign of asthma.
Levels under about 20 parts per billion in children and under about 25 parts per billion in adults are considered normal
More than 35 parts per billion in children and 50 parts per billion in adults may signal airway inflammation caused by asthma
Nitric oxide test results can vary widely from person to person. When interpreting test results, your doctor will consider a number of other factors. These may include:
Your asthma signs and symptoms
Past nitric oxide test results
Results of other tests, such as peak flow tests or spirometry tests
Medications you take
Whether you have a cold or the flu
Whether you have hay fever or other allergies
Whether or not you smoke
Your age
What Does Checking FeNO Levels Do?
If you have already been diagnosed with asthma, tracking your FeNO levels:
Determines if your current management plan is working properly and how your medicines may need to be increased or reduced
May identify what type of asthma you have
Can track your airway inflammation over time
Can tell your doctor if you have been taking your medicines correctly
If you have not been diagnosed with asthma, a FeNO test:
Can support your asthma diagnosis
Helps your doctor know how well you may respond to corticosteroids
Can rule out other conditions that have symptoms similar to asthma
Should I Get a FeNO Test?
Talk to your pulmonologist about having a FeNO test if:
You have respiratory symptoms that won't go away but you don't know if you have asthma
You have asthma but your medicines and treatment plan aren't reducing your symptoms
Successful control of your asthma depends upon a partnership between you and your allergist. Your allergist can use data from FeNO testing along with spirometry and other lung function tests to design and adjust your medication to keep your asthma under optimal control.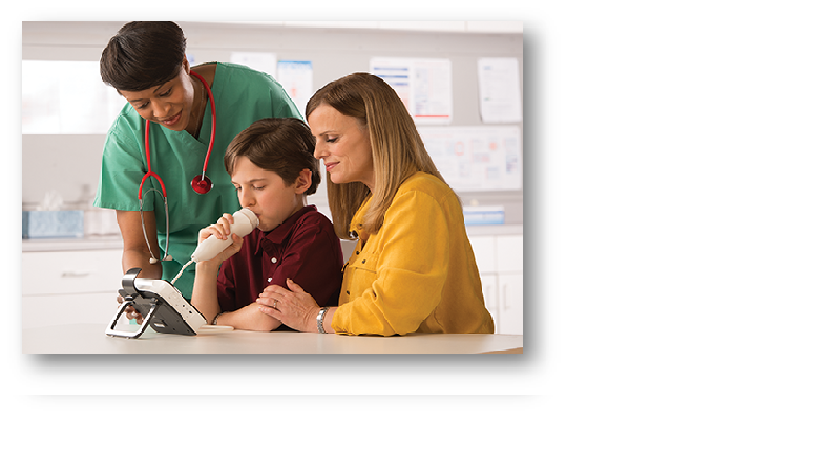 Courtesy: i)Mayo Clinic , ii) Asthma and Allergy Foundation of America