If you have nasal congestion, facial pressure, cough and thick nasal discharge, you may have rhinosinusitis, commonly referred to as sinusitis.
Your sinuses are hollow cavities within your cheekbones, around your eyes, and behind your nose. They contain mucus, which helps to warm, moisten and filter the air you breathe. When something blocks the mucus from draining normally, an infection can occur.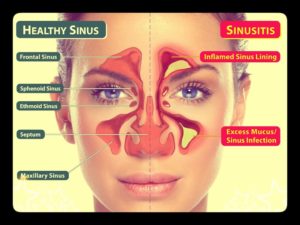 Acute Sinusitis
Acute sinusitis refers to sinusitis symptoms lasting less than four weeks. Most cases begin as a common cold. Symptoms often go away within a week to 10 days; but in some people, a bacterial infection develops and antibiotics may be required.
Chronic Sinusitis
Chronic sinusitis, also referred to as chronic rhinosinusitis, is often diagnosed when symptoms have gone on for more than 12 weeks, despite medical treatment.
Symptoms of Sinusitis
Pain in your sinuses
Thick Nasal discharge
Nasal congestion
Postnasal drip, often with a bad taste
Throat irritation and cough
Sinus headaches
Sore throat and hoarse voice
Diagnosis of Sinusitis
Your Allergist and ENT Specialist may prescribe the following test for diagnosis of Sinusitis
Nasal endoscopy: A thin, flexible tube (endoscope) with a fiber-optic light inserted through your nose allows your doctor to see the inside of your sinuses. This also is known as rhinoscopy.
Imaging studies: Images taken using a CT scan or MRI can show details of your sinuses and nasal area. These might pinpoint a deep inflammation or physical obstruction that's difficult to detect using an endoscope.
Nasal and sinus cultures: Cultures are generally unnecessary for diagnosing chronic sinusitis. However, when the condition fails to respond to treatment or is worsening, tissue cultures might help determine the cause, such as bacteria or fungi.
An allergy test: If your doctor suspects that the condition might be triggered by allergies, he or she might recommend an allergy skin test. A skin test is safe and quick and can help pinpoint the allergen that's responsible for your nasal flare-ups.
How is chronic sinusitis treated?
Saline nasal irrigation, with nasal sprays or solutions, reduces drainage and rinses away irritants and allergies.
Nasal corticosteroids. These nasal sprays help prevent and treat inflammation.
If the sprays aren't effective enough, your doctor might recommend rinsing with a solution of saline mixed with drops of budesonide (Pulmicort Respules) or using a nasal mist of the solution.
Oral or injected corticosteroids. These medications are used to relieve inflammation from severe sinusitis, especially if you also have nasal polyps. Oral corticosteroids can cause serious side effects when used long-term, so they're used only to treat severe symptoms.
Aspirin desensitization treatment, if you have reactions to aspirin that cause sinusitis. Under medical supervision, you're gradually given larger doses of aspirin to increase your tolerance.
Lifestyle and home remedies for Sinusitis
These self-help steps can help relieve sinusitis symptoms:
Rest. This will help your body fight inflammation and speed recovery.
Drink fluids, such as water or juice. This will help dilute mucous secretions and promote drainage. Avoid beverages that contain caffeine or alcohol, which can be dehydrating. Drinking alcohol also can worsen the swelling of the lining of the sinuses and nose.
Moisturize your sinus cavities. Drape a towel over your head as you breathe in the vapor from a bowl of medium-hot water. Keep the vapor directed toward your face. Or take a hot shower, breathing in the warm, moist air to help ease pain and help mucus drain.
Apply warm compresses to your face. Place warm, damp towels around your nose, cheeks, and eyes to ease facial pain.
Rinse out your nasal passages. Use a specially designed squeeze bottle (Sinus Rinse, others), saline canister or neti pot to rinse your nasal passages. This home remedy, called nasal lavage, can help clear your sinuses.
Sleep with your head elevated. This will help your sinuses drain, reducing congestion.
At Aaashwas